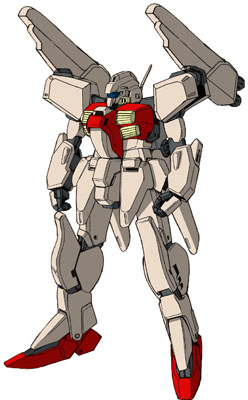 General and Technical Data
Model Number:
MSA-007T
Code Name:
Nero Trainer
Unit Type:
Mass production trainer/high-agility mobile suit
Manufacturer:
Anaheim Electronics
Operator:
Vist Foundation
Capacity:
Pilot only, in panoramic monitor/linear seat cockpit in torso
First deployment:
UC 0088
Height:
Overall height 20.88 meters; head height 19.02 meters
Weight:
61.7 metric tons, empty 38.2 metric tons
Construction:
Gundarium alloy composite
Power Plant:
Minovsky type ultracompact fusion reactor, output rated at 1650 kW
Equipment and Design Features:
Sensors, range 12000 meters
Fixed Armaments:
2 x beam saber, power rated at 0.9 MW, stored in recharge racks on backpack, hand-carried in use

60mm 2-barrel vulcan pod mounted on head
Optional Fixed Armaments:
2 x beam cannon, mounted in shoulder binders
Optional Hand Armaments:
Beam rifle, powered by rechargeable energy cap
Technical and Historical Notes
The MSA-007T Nero Trainer Type is a high mobility version of the MSA-007 Nero equipped with binders on its shoulders. These binders contain propellant tanks and nuclear thermal rocket engines similar to those installed in the Nero's backpack, giving this version superb maneuverability and performance. The mobile suit has smaller shoulder armor so as not to interfere with the movement of the binders, and vulcan guns are installed in its head. Its high performance makes this version an excellent aggressor machine in the hands of a skilled pilot, and it is usually employed as a trainer for combat instruction purposes.
Additional Reference Image: Cannon Type
Admin





Posts

: 65


Join date

: 2012-02-10


Age

: 31




---
Permissions in this forum:
You
cannot
reply to topics in this forum